The King Memorial Library is located in Machias, NY, in the rolling hills of the Southern Tier. Machias is located between Buffalo and Olean, on the Route 16 corridor. Recreational areas such as Lime Lake is just north of the town, while the ski slopes of Holiday Valley in Ellicottville are about 15 miles west. Nestled in the heart of Machias, the Library is located at 9538 Rt. 16. The building was constructed in 2004. Members of the King Memorial Library Board, library staff, and the town of Machias supervisor and trustees all took part in the financial aspects of the new building. Library board members and staff were an integral part of the building design, layout, and construction. The library was previously housed in the Machias Town Hall for a number of years.
The Library is named after Dr. Thomas J. King. A short history of Dr. King notes that he was born in 1825, in East Hampton, NY. in 1855, he graduated from Albany Medical College and started his medical practice in Machias in 1856. In 1860, Dr. King married Mary Farrar, daughter of Wiggin M. Farrar of Machias. Dr. King and Mary had two sons, Clarence and Harold. Thomas was the local surgeon for the Buffalo, Rochester & Pittsburgh Railroad, and was the attending physician to the Cattaraugus County Alms-house and Insane Asylum (currently known as the "Stone House"). Dr. King practiced medicine in Machias for 33 years, until his death on November 5, 1889. His practice was continued by his son, Dr. Clarence King, benefactor of the King Memorial Library.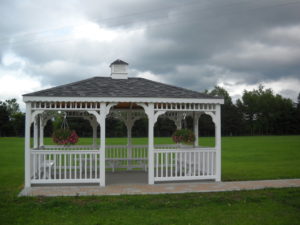 In 2014, the library constructed a Gazebo and Memorial Walkway on the grounds. Memorial and honorary bricks can be purchased in remembrance or the celebration of friends and loved ones. 4 x 4″ bricks cost $50.00; 8 x 8″ bricks are $75.00. Anyone interested in purchasing a brick can have an inscription form mailed or emailed to them. Patrons and visitors may use the gazebo for reading, computer work, and rest or relaxation. The library will hold seasonal programs in the gazebo during the spring, summer, and fall.